Positive Relationships at St Johns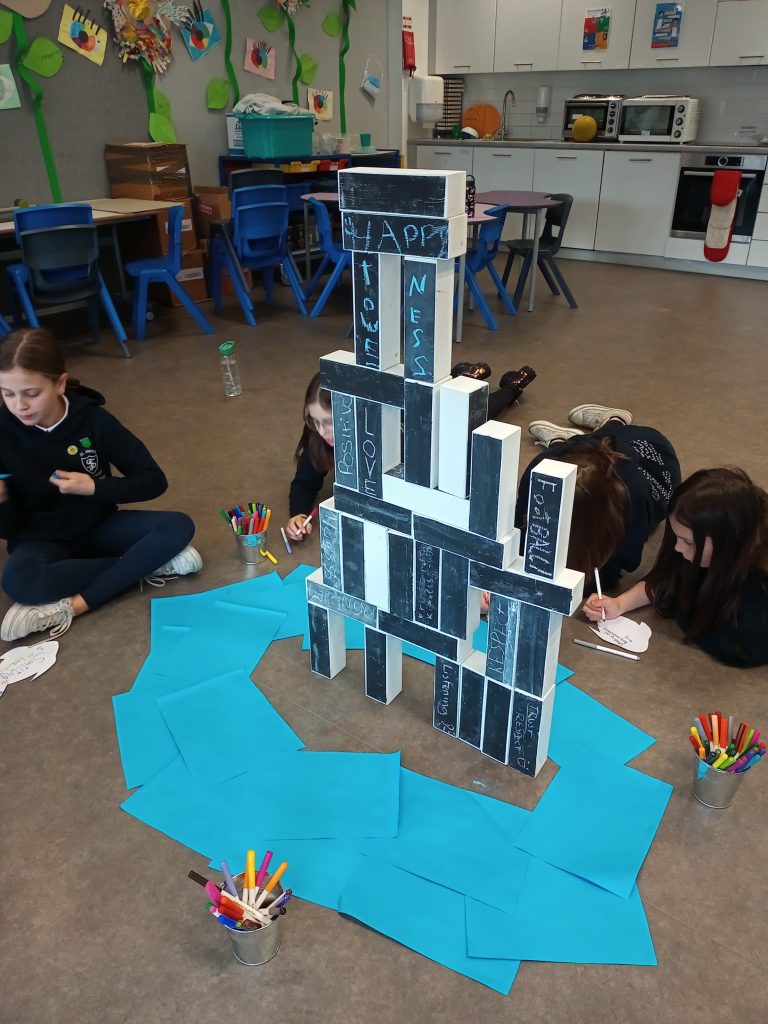 Setting the scene 
Having explored some challenging areas around shouting in St. John's, the next stage in our work was to focus on the positive side of relationships at St. John's and how to support the development of a positive relationship toolkit that could be used by adults and children throughout the school.  
Our first step in developing this toolkit was to work with children to identify the brilliant practice taking place in the school, explore what we mean by positive relationships and think about what adults and children can do to protect them. 
Process 
We ran a series of workshops with pupils in P5-7 to gather their thoughts on positive relationships in school. A Learning Kit for these workshops can be found here.
In each workshop, we started with a check-in, making sure children felt happy and safe and ready to engage. We then ran a short warm-up activity to get everyone excited for the workshop and thinking about different relationships in their lives.  
With the children suitably excited and warmed up we moved on to our main activity, which was to build a relationship tower together. Children were given giant building blocks and asked to think of something that you need to have positive relationships in school. Children were asked to decorate their blocks with a word or short phrase that summed up what made relationships positive. We then went round the circle and asked children to share their thoughts: 
'Positivity – you can't be in a positive relationship if you can't be positive.' 
'Smiles – everyone needs smiles in their life.' 
'Trust – you have a better relationship with someone if you trust.' 
Smiles, trust, respect and listening came up repeatedly during our workshops demonstrating the importance that children place on these ideas and how simple building blocks can develop into strong and lasting relationships between adults and children.  
Once we had our finished blocks, we asked children to work together and build them into a tower. The tower could be any shape they wanted but needed to include everyone's blocks. It was exciting to see the different approaches children took to problem-solving and communication in each group. Children in P5 focused on filling every block with words and making a solid structure, whereas children in P7 used their blocks to spell out the word love.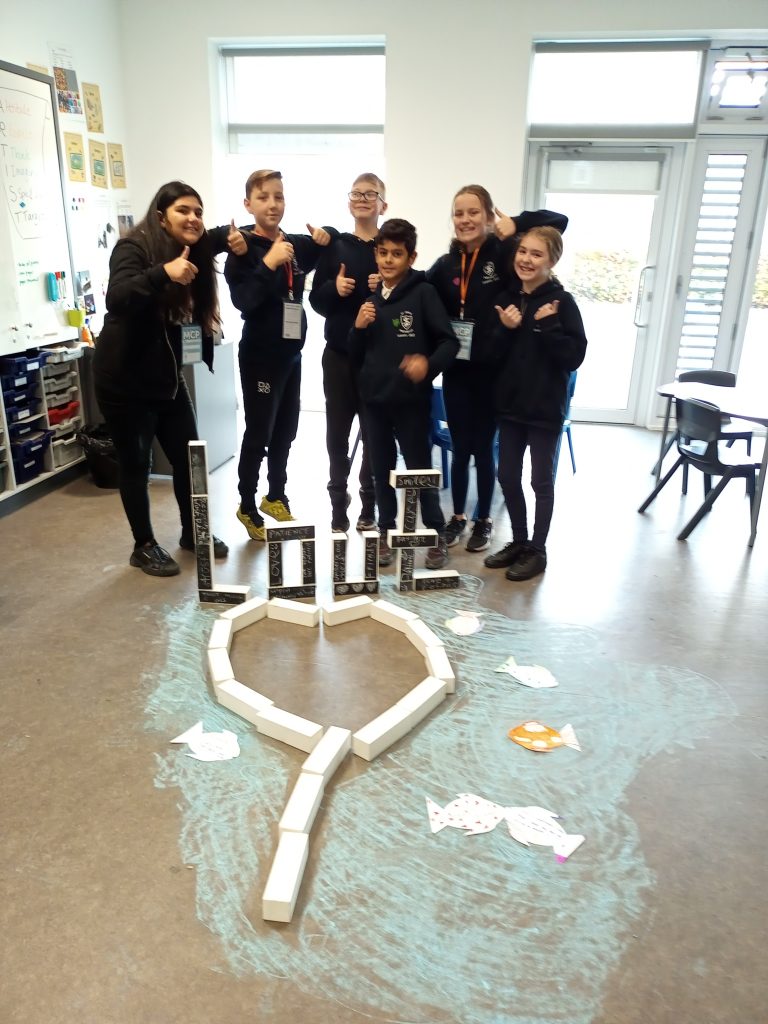 Once we had our towers in place, we spoke to children about what we could do to try and protect them. We created moats around our towers, with some excellent giant chalk moats from P5 (photo). Now that we had moats, we needed to populate them with some protective fish. The P7s called their fish 'positivity piranhas'! 
The idea was that these positivity fish would represent what adults and children in school could do to protect their relationship tower. On one side of their fish we asked them to think about something children could do to protect positive relationships, on the other side we asked them what adults could do. They came up with some really thought-provoking and inspiring ideas.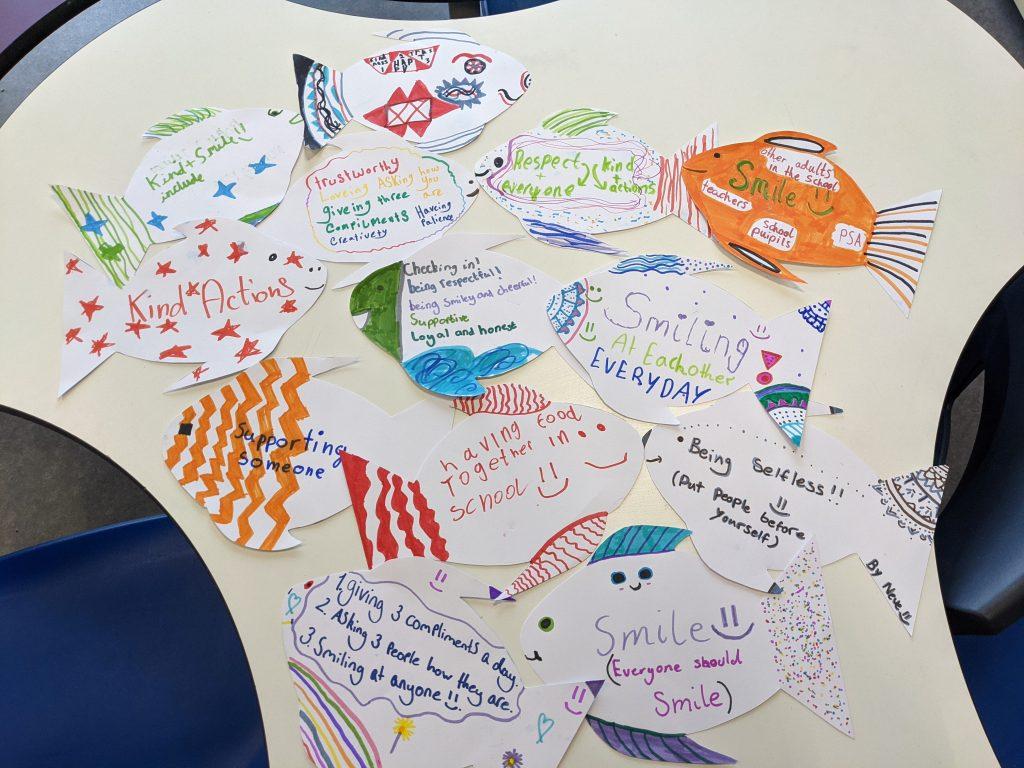 'Having patience' 
'Loyal and honest' 
'Checking in' 
'Inspire – friends and teachers' 
'Being selfless – put other people before yourself' 
'Smiling at each other every day.' 
'Kind Actions' 
The children we worked with understood that both adults and children needed to work together to build and protect positive relationships in school and they had some excellent and easily actionable ideas for how they could do this. 
 'When you think it through, we have got to be respectful and everything.'  
Impact questions 
Once we'd completed the workshops with children, we wanted to make sure that children had a chance to feed their learning back to adults and to be involved the next steps. We brought P7 along to our next St. John's Unfearties (adult steering group) meeting to talk about what they'd done and the impact it had.  
Adults asked children if it had changed children's relationships in school. Children replied: 'We've got more kinder; I've tried to help others more' and 'It reminds us to be more positive and help others'.  
Adults also asked children how they could keep this work going. The children had produced zines for us featuring all their positivity piranhas. 'Maybe we could make more of the zines, have a few for every class and then people could see them and be reminded.'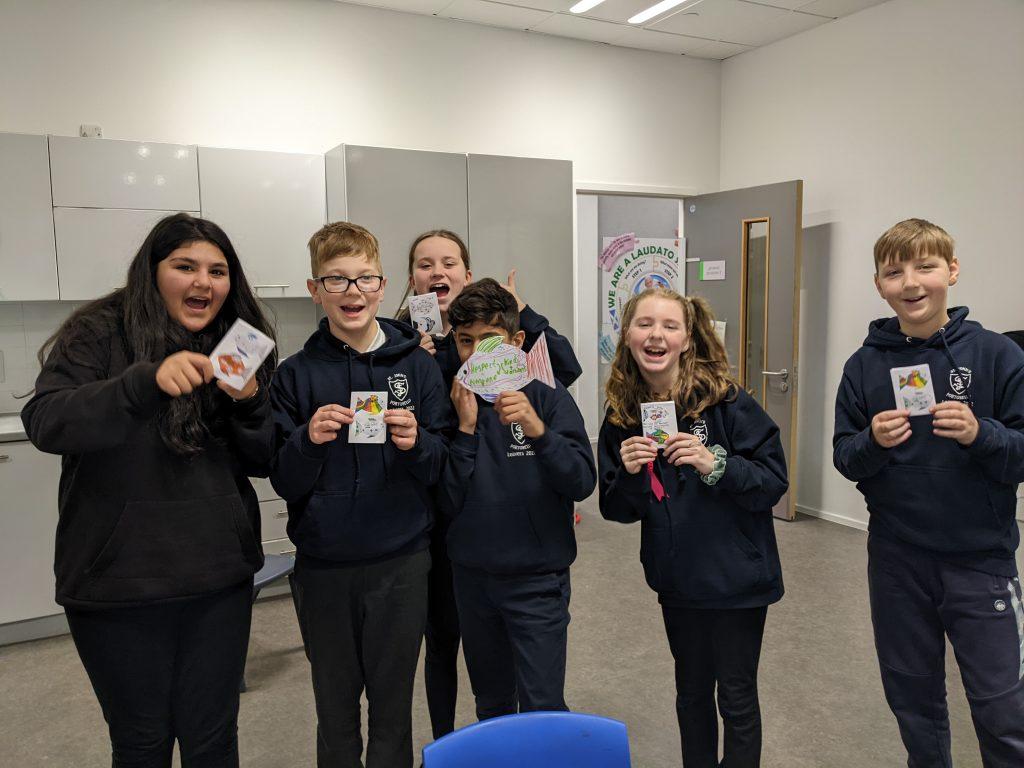 Adults reflected on what the children had said, and we discussed how we could feed these ideas into the development of a positive relationship toolkit to be used throughout the school. The new toolkit will reflect the brilliant work identified by children already going on in the school as well as folding in children's ideas for how to build and maintain those relationships. By working together on the toolkit, we can create a sense of ownership and buy-in from adults and children.  
One of the unexpected outcomes of the workshops was our discussions around smiles. Children in every session talked about the importance of having smiling adults in school. We asked children if it was sometimes hard to tell if adults were smiling with their masks on, they said it was tricky to know sometimes but a lot of adults in the school had smiley eyes which made them feel good! This led to a conversation in the Unfearties group about how we can make sure children know that we're happy and smiling while we're wearing a mask. While this may seem a small point, the children were clear about how important smiling adults in school were. 
What next? 
Following on from this work we identified our next steps: 
Work with children and adults to develop a positive relationship toolkit in school, building on existing good practice.

 

Communicate our work with adults in the school and parents so they are engaged and excited about our next steps.

 
It is clear from all our work in St. John's that the adults in the school really care about the children and we see examples of great practice every day as we explore these topics together. Part of the work going forward is to encourage adults to name their practice as rights-based and to celebrate it while looking for areas that could be even better. 
More case studies to come!